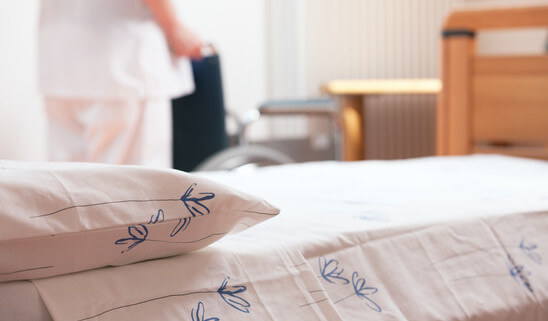 Iowa City, IA – Nursing homes are supposed to prove essential forms of healthcare for elderly and sick individuals who cannot take care of themselves. In theory, this sounds like it should be a simple concept, but the reality is that nursing homes around the United States have serious problems and are often sued for serious problems. Any family that is about to commit a relative to a nursing home should do some basic research to ensure that the facility is safe and complying with accepted healthcare standards. When nursing homes make serious mistakes or intentionally injure their residents, they can be sued to pay for injuries or other problems caused by their actions. 
Visiting the facility
This is probably the most important and obvious way to check a nursing home. The facility should appear clean, well staffed, and the residents should not look sickly or socially withdrawn. The staff should be willing to answer general questions about the facility and have a genuine desire to help. Red flags during a visit can include unsanitary common and dining areas, staff that seems busy, irritated, or uninterested, and residents who seem to have a depressed or unkempt appearance. 
Online research
The internet is a powerful tool for looking through a facility's past. If the home has been sanctioned, had code violations, or been placed on probationary status for serious issues, there should be records of this available online. New organizations also tend to publish stories about neglect and physical abuse that happens in a facility, especially if problems at the location resulted in injuries or fatalities. 
Government information about funding
There is a lot of data maintained by the government through their Medicaid and Medicare funding about nursing homes. This is because the funding is contingent on compliance with various laws and regulations. Homes that have consistent problems may be given certain conditions to continue operating. There also should be records maintained about any problems at the facility or the results of inspections by government agencies. 
Problems with getting information
There are also problems with learning about a particular nursing home. The facility often has security that will limit access to guests, and they will take steps to minimize negative publicity. Some people who are in poor health may also be reluctant or unable to report serious problems when they happen, and certain criminals prey on elderly people who they know will not report crimes. 
Advice from a nursing home abuse attorney
People in Iowa who have had problems in a nursing facility can contact a local lawyer to learn more about taking legal action. Eells and Tronvold Law Offices is an experienced injury firm that is available to help with various problems. 
Firm contact info:
Eells and Tronvold Law Offices
1921 51st Street NE, Cedar Rapids, IA 52402-2400
319-393-1020
www.eellsandtronvold.com
https://nursing-home-abuse.usattorneys.com/wp-content/uploads/sites/2/2021/07/photodune-7028975-nursing-home-xs.jpg
365
548
brian
https://usattorneys.com/wp-content/uploads/sites/2/2020/01/logo.svg
brian
2021-07-12 11:36:05
2021-07-12 11:36:05
How should a family in Iowa research a nursing home before letting a relative stay there?